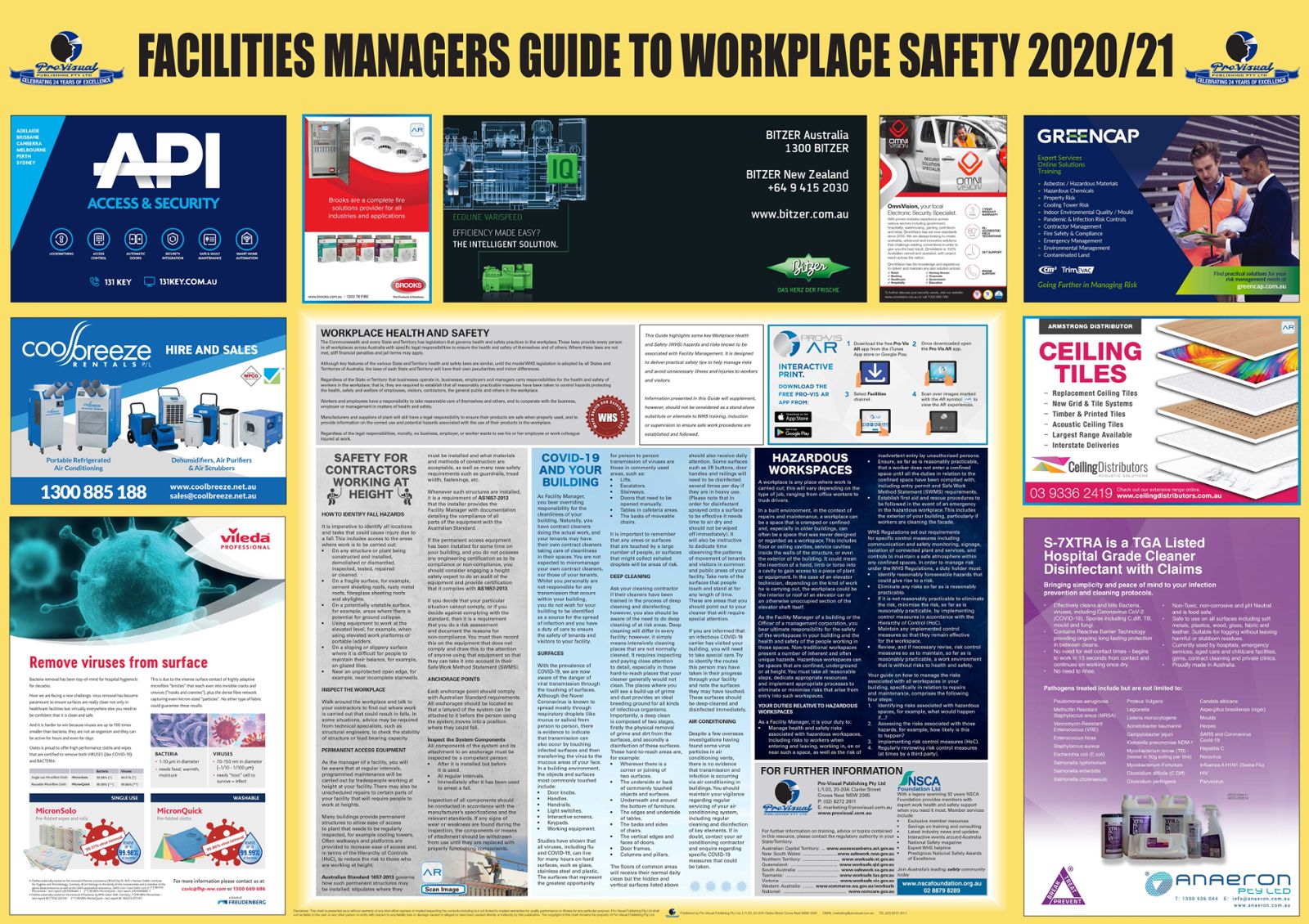 Pro-Visual Publishing in conjunction with the NSCA Foundation have proudly released their latest edition of the Interactive Augmented Reality (AR) Facilities Managers Guide to Workplace Safety 2020/21, distributed free of charge Australia wide.
The wall-mountable Guide is designed for display year-round to communicate safety issues and hazards that Facility Managers deal with on a day-to-day basis. Staying up to date with this essential information will help to ensure the safety and well-being of not only themselves and their teams, but the patrons and personnel who visit the facility.
Together Pro-Visual Publishing and their partnering Associations have carefully selected topics that address relevant safety issues that include:
Safety for Contractors Working at Height.
COVID-19 and Your Building.
Hazardous Workspaces.
The digital feature of AR aims to enhance engagement and offers an aspect of interactivity that makes learning very easy with a phone or tablet, plus helps to make it a go-to piece over other print material. By simply downloading the free Pro-Vis AR app and scanning over any AR capable content using a smart device, Facility Managers can access additional resources, including an animation demonstrating working from height.
For further information, or to obtain additional copies of the Guide, please call (02) 8272 2611, email marketing@provisual.com.au or visit www.provisual.com.au.
For media enquiries or images please contact Deanna Hutchings at Pro-Visual Publishing on (02) 8272 2611 or ddavenport@provisual.com.au.
Click here for a larger image.